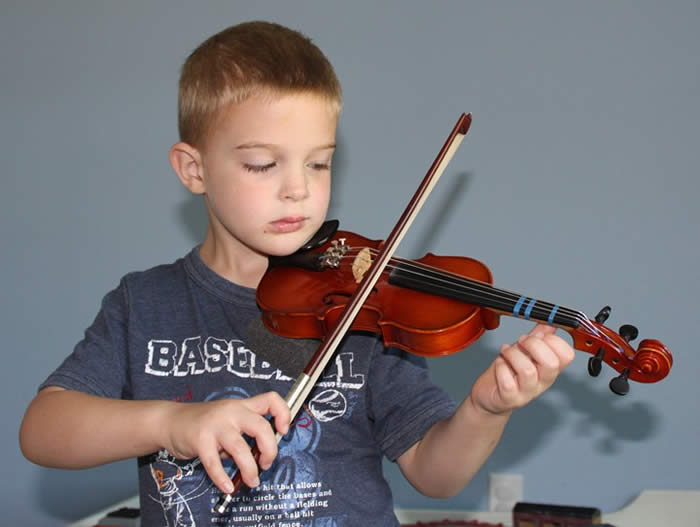 The Academy of Music in Georgetown offers violin lessons to students aged 5 through adults.  We have violin students as young as 5 and many over the age of 65.
There are some teachers that will start violin lessons as early as 3 but experience has shown us the most productive learning occurs when the beginner student is 5 years or older.
Our university or RCM trained violin teachers are comfortable with the Royal Conservatory of Music and the Suzuki violin method and many perform regularly with local orchestras, church groups, or bands.
Our Celtic fiddle lessons are mainly Scottish, Irish, and Cape Breton style. Students will learn much of the popular fiddle repertoire that is also played by fiddlers like Natalie MacMaster and Ashley MacIsaac. Celtic fiddle students are encouraged to play with the Georgetown Celtic Fiddle Orchestra. There are many opportunities to perform both as a solo fiddler as well as fiddle groups and duets. We do not recommend fiddle lessons for children under the age of 7.
What's the difference between the violin and the fiddle?
The violin and fiddle are actually the same instruments. The difference is in the style, technique, and type of music that is played. The violin is generally thought of as a classical instrument while the fiddle is usually used in traditional or folk music. The techniques that are used for the violin (classical) can be very different from those used on the fiddle (folk). When you are deciding where to learn the violin or fiddle make sure that you are choosing a school that has teachers that specialize in the specific style you want to learn.

For younger students, we encourage a parent to sit in the last 5 or 10 minutes of the lessons so that they can help their children at home with some of the basic violin techniques like posture and hand positioning.
"The staff and teachers at the Academy are always so polite and approachable. You know you've found the right school when your kids look forward to their music lessons and always leave with a great feeling of accomplishment."
W. Wong